October 26, 2009
Two Knox College computer programming teams finished among the top teams in the region, in the ACM Intercollegiate Programming Competition held Saturday, October 24 at the University of Illinois-Springfield. In the annual competition sponsored by the Association for Computing Machinery, teams had five hours to solve nine programming problems of varying difficulty.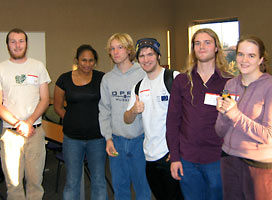 Walker, Johnson, McGeeney, Samoore, Guy, Poley
The Knox Gold Team — senior Peter Walker, junior George Guy and sophomore Casey Samoore — solved four problems and finished sixth among 15 teams at the University of Illinois site. In the official results, the team finished in 40th place overall among the 148 teams that competed at ten sites in the Mid-Central USA Region, which includes Illinois, Missouri, Kentucky, Tennessee, and Arkansas.Solving the same number of problems, four of nine, but taking a few minutes longer, the Knox Purple Team — senior Eleanor Poley, junior Camile Johnson, and first-year Jason McGeeney — finished seventh at the Illinois-Springfield site and in 57th place in the region. Placements were determined by both time and number of problems solved.
"The competition this year was fierce — nobody solved all the problems — and Knox's finish is a great showing," said John Dooley, chair of the computer science program. "It continues our tradition of fielding very strong teams in this contest. The students have been working hard all term, practicing every week to get ready for this contest." The Knox teams have been coached by Dooley and colleagues in computer science Don Blaheta and David Bunde.
The top two teams in the region, from the University of Illinois-Urbana and the University of Chicago, solved seven of the nine problems to advance to the World Finals at Harbin University in China next February.
"Our two Knox teams place us among the top three liberal arts colleges in the regional competition, along with Wheaton College and Hendrix College," Dooley said.
Founded in 1837, Knox is a national liberal arts college in Galesburg, Illinois, with students from 47 states and 48 countries. Knox's "Old Main" is a National Historic Landmark and the only building remaining from the 1858 Lincoln-Douglas debates.