October 26, 2009
Two Knox College computer programming teams finished among the top teams in the region, in the ACM Intercollegiate Programming Competition held Saturday, October 24 at the University of Illinois-Springfield. In the annual competition sponsored by the Association for Computing Machinery, teams had five hours to solve nine programming problems of varying difficulty.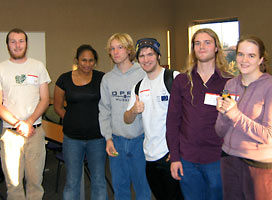 Walker, Johnson, McGeeney, Samoore, Guy, Poley
The Knox Gold Team — senior Peter Walker, junior George Guy and sophomore Casey Samoore — solved four problems and finished sixth among 15 teams at the University of Illinois site. In the official results, the team finished in 40th place overall among the 148 teams that competed at ten sites in the Mid-Central USA Region, which includes Illinois, Missouri, Kentucky, Tennessee, and Arkansas.Solving the same number of problems, four of nine, but taking a few minutes longer, the Knox Purple Team — senior Eleanor Poley, junior Camile Johnson, and first-year Jason McGeeney — finished seventh at the Illinois-Springfield site and in 57th place in the region. Placements were determined by both time and number of problems solved.