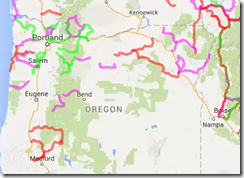 I found one place that looks promising to outline Motorcycle roads nearby where I can go for a ride MotorcycleRoads.com.
Oregon is a heavenly collection of scenic motorcycle roads. In fact, some of the country's best motorcycle roads are found in the Beaver State due to its scenic diversity and scenic eminence. A motorcyclists traveling across Oregon from west to east would see the majestic shores of the Pacific Ocean, pass through crisp and regal peaks of the Cascade mountains, make their way along the breathtaking Columbia River basin to the north, and end up in vast arid plateaus cut by picturesque river canyons when they reached the eastern portion of the state.
Another is a blog from Jayne Cravens which in her words is about:
… motorcycle routes are for people who live in the Portland or Salem area of Oregon and want a nice day trip – scenic and winding roads – but these routes are also for motorcycle riders who are visiting the Portland area, or elsewhere in Oregon, as part of a long-distance trip.